To celebrate Prime Day 2023, Amazon is giving away four free games through its oft-overlooked Prime Gaming service, and the new selection includes a popular action game set in the Star Wars universe.
Starting July 10 (Prime Day officially begins July 11), Amazon Prime members can claim a free copy of Star Wars: The Force Unleashed for PC. Released in 2008, The Force Unleashed is one of the best-selling Star Wars games of all time and continues to cause a sensation to this day. It was ported to the Nintendo Switch in 2022.
In addition to The Force Unleashed, Prime Gaming is also giving away Baldur's Gate 2: Enhanced Edition, the 2017 Prey reboot, and Shovel Knight: Showdown (starting July 6). The service's regularly scheduled monthly games are also available to claim for free and currently include Neverwinter Nights: Enhanced Edition and SteamWorld Dig 2.
If you're an Amazon Prime subscriber, you already have access to Prime Gaming, so be sure to claim all of these free games during the Prime Day period. And remember that once claimed, these games are yours to keep. So even if a particular game doesn't appeal to you right now, you should still get it for a possible game at a later date.
Why you should play Star Wars: The Force Unleashed
Set between Revenge of the Sith and A New Hope, The Force Unleashed tells an original story that is now classified as part of the non-canon Star Wars Expanded Universe. You play as Starkiller, a powerful force user who has been trained since childhood to become Darth Vader's apprentice. And it's your job to hunt down the last remnants of the Jedi order and put down any rebellion against the Galactic Empire, all while keeping your existence a secret.
Players are given a considerable arsenal of powers including lightning, telekinesis, and Vader's iconic force choke. Plus, when your force meter runs low, you can always swing your trusty lightsaber to slice through your enemies. The true joy of The Force Unleashed is combining your powers to create devastating combos that even Yoda could not pull off in his wildest dreams.
While the levels are very linear, you can visit a variety of iconic Star Wars locations, including the Wookiee house of Kashyyyk and the glowing halls of Cloud City. Star Wars lovers are in for a lot of fun with all the fan service inside, and you might want to consider the game's various DLC chapters that let you hunt down iconic characters from the original trilogy, including Han Solo and Luke Skywalker.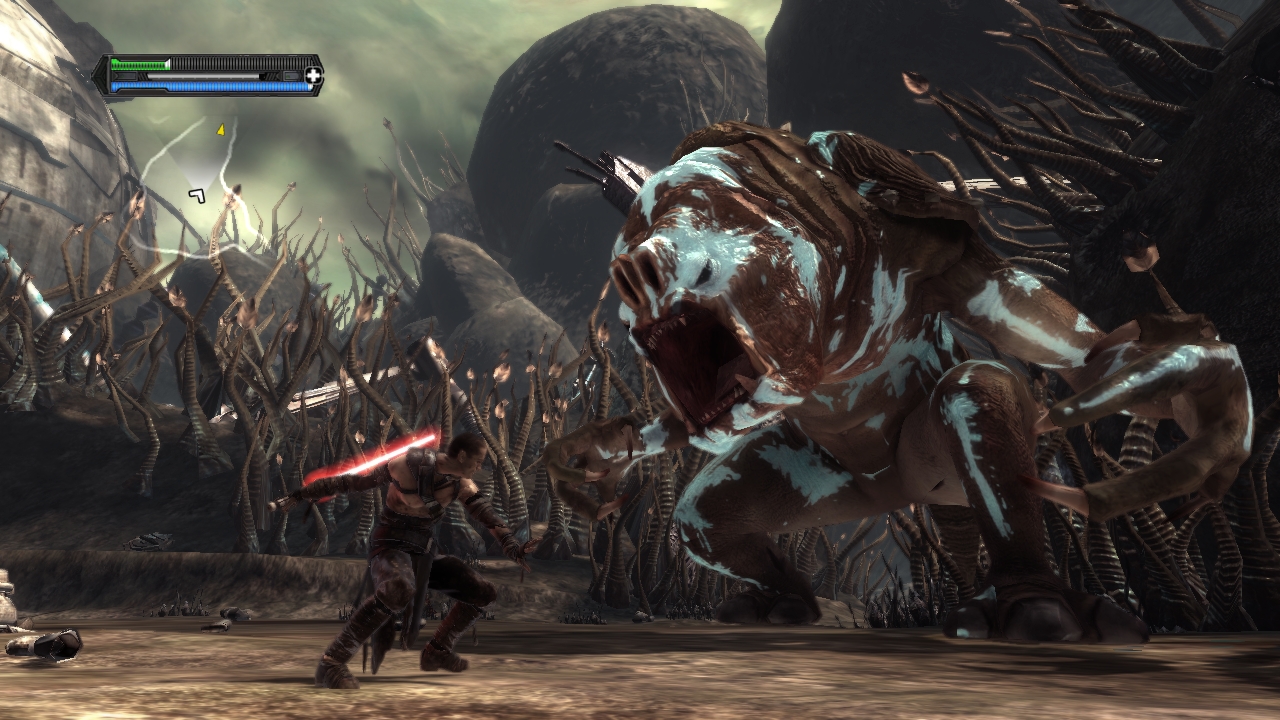 There's no denying that The Force Unleashed lacks the depth of exploration and combat of the more recent Star Wars Jedi: Survivor. But even 15 years after its release, it's still a total blast, mostly thanks to its seriously impressive physics: the way enemies bounce off walls and objects when you force-hit them never fails to be darkly humorous. And as my colleague Tom Pritchard discovered last month when he replayed The Force Unleashed for the first time in years, it's a Star Wars game that still holds up pretty well in 2023.
And if you like playing The Force Unleashed through Prime Gaming, you can pick up its sequel later. Star Wars: The Force Unleashed 2 offers more of the same over-the-top action, and while it was criticized at launch for its weak story and short length, fans of the original Force Unleashed will appreciate all of Starkiller's new powers. Not to mention, the sequel allows you to wield multiple lightsabers at once, and as General Grievous demonstrated, the more lightsabers you have at your disposal, the better.
More from Tom's Guide